Who can say no to a free comedy show! That's right, comedian Ever Mainard is hosting a show in North Hollywood that promises to be a fun time. Tickets are free if you buy them in advance and $5 at the door.  I will definitely make it to a few shows and I hope to see you there! Check out the interview with Ever below to find out more details about "The Shit Show" and what it takes to pull off a live comedy show in LA
What is the Shit Show?
The Sh*t Show is the rowdiest stand-up show in any comedy scene. It combines the ambiance of a run-down frat party with the high-class jokes of comics seen on Comedy Central, BET, Conan, Late Show with David Letterman and more.
Half party, half show, the Sh*t Show features everything from Dollar Tree prizes to drinking contests. When a comic delivers a great joke, the audience chants "best joke!" and the comics walk away with a prize.
Who is Headlining? 
Emily Maya Mills. She's amazing. She's been on Conan, Ellen, Parks and Rec, Birthday Boys, and countless other shows. She's also a regular at UCBLA.
What makes Shit Show so special?
Well, for one, we're not your typical stand up show.  We have a mascot- The Hot Dog Man- who throws out free shots.  We also get people pumped up and encourage the audience to let a comic know when they loved a joke. Its really a rush to get everyone chanting "best joke" after a comic delivers an amazing set.
And comics get a prize?
Yes, in Chicago we are sponsored by Revolution Brewing, so comics walk away with free booze.  I'm still looking for local beer sponsors, but have a few in the works.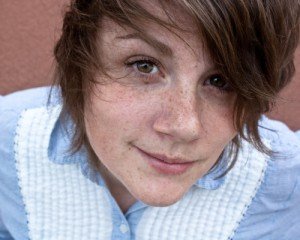 How long have you been in LA? How long did it take you to find a venue for Shit Show?              
I moved to LA from Chicago in September and just now found a space for my show Its been a long seven months, but I finally found my diamond in the rough.
What took you so long to start the show?  Did you have any troubles?
I've learned that finding available spaces for performances in LA is hard, but finding available and WILLING spaces can be much more difficult.  I took for granted my seemingly endless venue opportunities in Chicago. I was also shocked to find out how much money a lot of venues charge to rent out for a couple of hours.
Were the venues willing to work with you on price?
When I first started scoping out venues I started with semi-known spaces. They would charge $500 for the night and then have a bar guarantee of at least $1,500 bucks plus usage fees.  It was frustrating, the more spaces I looked at the higher the price.  One wanted $1,200 bucks up front, and a $1,500 bar guarantee.  I was told that they could knock off a couple hundred bucks, but that was still too much for an up and coming show. Producing a show is already stressful,  and having to worry about bar and rental fees was just too much.
Why was renting a bar something you didn't want to do?
I was getting pretty desperate in my search. I thought shows out here HAD to be at one of these top bars.  "Shit Show" was originated because we wanted to have a fun and inexpensive show.  I worried because I'm relatively unknown in LA, and starting a new show at one of these bars with a high overhead meant that I would have to jack up the price.  I didn't want to do that. I wanted to stick with "Shit Show" roots.
Where did you eventually find your space?
I started thinking out side the box and a good friend of mine told me about The Good Nite in North Hollywood.  Its normally a karaoke bar, but once I walked in, I knew it was home.
What makes it so special?
Aside from the fact that its a karaoke bar, the bartenders are awesome.  I've gone to The Good Nite on several occasions and have had a blast. Daniel (Co-Owner) has been really supportive.  I'm very excited to see this show take off.
What: The Sh*t Show
Cost: Free/discounted tickets in advance on EventBrite. $5 day of
When: Every last Friday of the month starting March 28, 2014
Where: The Good Nite Bar, 10721 Burbank Blvd, North Hollywood, CA 91601
Who: Host Ever Mainard & rotating guest celebrity co-hosts